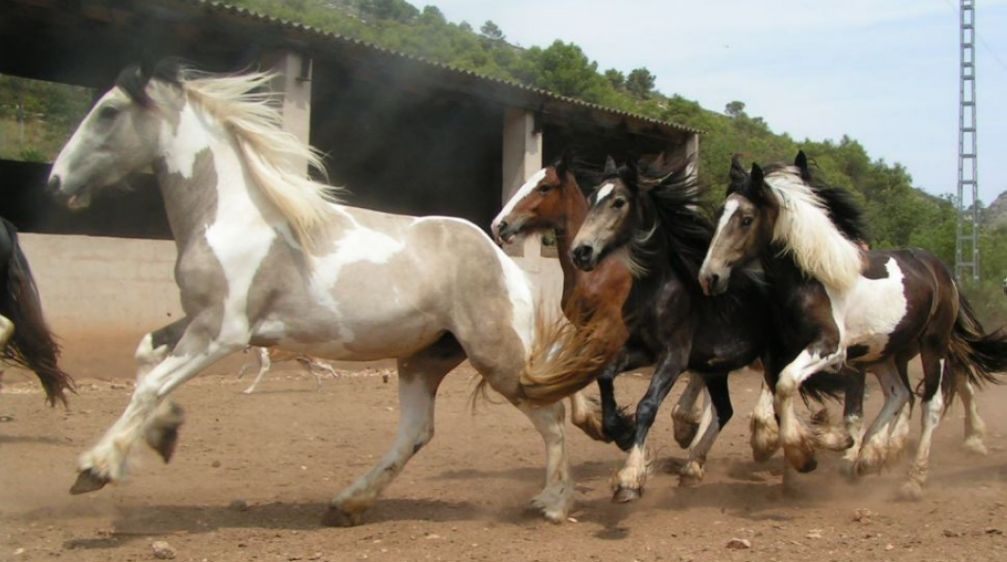 NEWS
Latest news:

15.08.2015: A lot of changes! Kiara and Keanu are sold, Ebo and Antonia sale agreed, Roisín Dubh has been laned for breeding,
Tora is in riding training and Rionagh has been loaned out for riding ...
Due to family and health reasons, we took the hard decision to sell a huge part of our herd, here is an actual list (in german).
10.04.2014: Smari is sold, he will be a part of a cultural events' center in Alicante (Villa Atia) and "responsible for the care for children" ;-)
20.03.2014: Milano has been brought for being trained
thoroughly
for riding to Sandy.
13.03.2014: Thía has got a cute red dun or zebra dun filly: Tilia!
10.03.2014: Ciara hats given birth to a gorgeous tri-coloured colt, his name is Geordi!

25.02.2014: Lorelai is sold!
19.10.2013: Lugina and Taizen are sold; Féine is reserved.
The page "horses for sale" has been updated
!

01.10.2013: Tianu has given birth to a wonderful daughter: Tiombé.
The page of the Foals has been updated!
03.05.2013: Túan and Massimo have been sold.
The page "horses for sale" has been updated
!
07.04.2013
: The pages of the Foals and the hall of fame have been renewed!

24.03.2013: Roisín Dubh has got a gorgeous filly foal, her name is Rosanna!
30.01.2013: Clare has got a precious filly foal, her name is Malin!

27.10.2012:
Coltrane is sold.
19.10.2012: Alant, Teardrop and Ogion are sold! Tuan and Massimo are loaned out for use as therapy-horses!

28.04.2012: We are so very sad about the death of

Lailagh

, who suffered a colic. We miss her so much!

06.04.2012: Aidhuine has moved to his new home; a photo of him at the horse-benediction of San Antoni you find here.
13.11.2011: We will organize a training course of Natural Horsemanship with the german specialist Sissy Behrens (the course will be
interpreted into spanish) - on Saturday, the 19.11.2011, 11 h a.m.!

04.04.2011:
10 years Irish Tinker-Stud!

With the 10. birthday of Rionagh, our first Irish foal, the anniversary begins ...
Photo-Galleries:

30.11.2013: Photo album of Lugina and Taizen in their new family: Lugina+Taizen
19.01.2013: Lots of new photos: 18.01.2013

24.12.2012: Liamh, *2007, Milano, Roisín Dubh, Liamh, Luseach + Lorelai, Chronik-Fotos

28.04.2012: Pics of the foals and some (young) mares on 27.04.2012.

06.04.2012: Pics of our mares' and foals' herd on 01.03.2012 here.
29.08.2011: Friends of us visited the horses and made lots of photos: Album "August 2011",

04.08.2011: Photos of our horses, ridden by friends on a visit: Album "visit", some photos of our new foals: "Foals 2011"
04.08.2011: We now are registered in

facebook

and will publish there photos of our horses. All visitors,

not registered in facebook

, may watch the albums, using the indicated link of the album. Those

registered at facebook

, find us here Katinka Lutze.
WARNING: We try to translate site by site but we can't do that in an hour ...
09.02.2011: Eibhlín has reached her new home in Galicia well and loves the fresh grass ...!
Dancing Cloud is sold - he willl be an allround family-horse and as well a hippotherapy-horse when grown up.
Congratulations to Bárbara and Dancing Cloud! In his new home he has a good friend, grass-land, hay and Bárbara ...

14.08.2010: During the last few days Smari is being ridden at Sandy's, he is doing very well, here you see him being ridden by Zareena.

09.08.2010: Séamus has been sold to a horse-crazy family - congrats to on one hand Sandra, Bini und Alex and on the other hand
to Séamus, I think they are matching together very well!
Here
tomorrow
I will insert photos and a video of Séamus, ridden on friday in the stable of the good horsetrainer Sandy.

12.07.2010: Maelduine has been sold! As a hippotherapy-horse he'll be a good friend for little children with discapacities.

Congratulations to
Maelduine, I think you will be happy with Marisa and she with you.
A few weeks ago we visited the sea coast first time with Maelduine: pictures here.

10.07.2010: New pictures of Séamus being ridden here.

12.06.2010: Last week our friend Sabina has ridden Maelduine, he behaved very well, in the beginning she got the sense
that he was to slowly and to precautious, he seemed to know about her hemiplegia; he really is a sweetheart!
Photos here.
02.06.2010: We added two series of photos from Túan with his friend Yarê, who uses to visit us at eastertime,

here: 2009 and 2010.
Furthermore some new photos from Coltrane, he develops very well and is very tall.

01.06.2010: There are new photos of Maelduine, being ridden by Sandy, he is doing a great job, calm and concentrated!

29.05.2010: Eibhlín has been sold, she will live in green Galicia after weaning, where she may play and grase the whole day
with her new friends - another foal and a friesian mare. Congratulations to Nila!

26.05.2010: Some more recent caught photos of Lynn-Laigh (sold to Germany) and finally photos of her Sire Max in his new stable here.

13.04.2010: Katinka and Elija have returned from their trip to Ireland, while Katinka participated the international conference
of the Irish Cob Society Ltd. (together with Fernando as Spain representatives), Elija took photos of some
horses in Dublin ...
03.04.2010: New photos on the page of Massimo and here under the saddle, showing his gait.

26.03.2010: These days there is happening so much ...! (new photos we'll be made and shown at a later moment):
Rising Sun is back - the filly foal, that have been stolen last year as a little baby of the age of 5 weeks, we found her
after a long search and thanks to the microchip we could take her home immediately!
We are so happy! It's incredible!

Séamus and Maelduine are together in a riding school for being trained.
Massimo as well is being ridden in the moment, in the beginning already he showed his special gait!

16.02.2010: A new pretty photo from Ciarán (sold to Ibiza)!

16.12.2009: Our new breeding association

Irish Cob Society Spain

is online: www.irishcobsociety.es!
And the association holding the studbook of origin of this breed,
The Irish Cob Society Ltd.
, confirmed our afiliation!
19.09.2009: Corcaigh's daughter has won the elite-mares' competition and so she got the premium mare
award 2009
of the government.

11.09.2009: I have edited an album and filled it with fotos of Grace.
New photos of Taori, Peigi, Olivia as well as Luiseach, Coltrane and others you now find under the same link,
please choose one of the albums.
03.09.2009: New fotos of Lynn-Laigh (daughter of Lailagh and Max P, sold to Germany) in her new stable with her friends.
She is really fine, everyone loves her and she is learning to work by playing and having fun - the best way to do it.
20.08.2009: Corcaigh's daughter in Germany, Corcaigh's Joy, has been elected as a premium mare of the breeding association ZfdP and
she has also been invited to their national show. A comparable success she had at the show of the breeding association
Rheinisches Pferdestammbuch: afterwards she has been invited to the show of Elite mares, so she has the chance to get the
title of a Staatsprämienstute (premium of the government of Germany) - let's wish her good luck! New fotos here.

09.07.2009: Ciarán shows us with new photos from Ibiza, how much a Tinker likes to jump!
December: We are now active members of THAICS e.V., the first scientific attempt
to discover the secrets of the tinker horses and Irish Cobs.
05.12.2007: We are members of SCS, Special Color Schweiz, the first European association for the breeding of all
special coloured horses. Massimo has been registered at SCS as breeding stallion.

25.12.2006:
Here a few impressions from Spain with snow!
12.09.2006: Our horses passed very well the first hot summer in Spain. Are they still Irish, Germans or Spanish now? ;-)
They didn't have any problems with the summer temperatures, I think only the springtime was a little bit with its stressful sudden changes.

20.04.2006: Someone has let two puppies in front of our door ...
January 2006: We moved two Spain! Now all horses arrived
! We wish you all a happy new year
!
September 2005: Fionnuala won the title best of show of the Tinker horses at the Wickrath elite-show of mares who got the Estates Premium en Wickrath / Rhineland, Germany

2005

!
Results
of the foal's and mare's show of the year 2005 in Ettenhausen / Bonn, Germany (in german)

The foals 2005 you find here!
2004: The association of breeders of the Rhein-Sieg-Kreis - area gave us a premium for our breeding exits in
2003!
September 2003: The famous horse-fotograf Irene Hohe visited us! Click here. (text in german)